NEW LITTER- born October 28, 2010.
We have one male puppy available as of Tuesday, January 4th, 2011. He is 9 and a half weeks old. His nickname is Donder, he weighs 20 lbs, and he is the largest and darkest pup in the entire litter of 9 puppies!! He is excited about finding his forever home and new owners! He loves to play, eats very well, and is progressing fast on his potty training He has had 2 shots so far, 3 wormings and had a Veterinary health checkup at 6 weeks of age. He is AKC registered. See his pictures below. We have the Mother and father and Grandmother of these pups on site. This is our last litter as Angel and Rolley (the parents) have retired.

We welcome you to come visit our home and our goldens. Please call 989-315-1055 to make an appointment to come see us! Please read this entire page to see all of the pictures of our adult retrievers (not for sale). There are also pics of past litters of pups by these parents along with their 'grown-up' pic next to them. If you watch the slideshow below, you will see Donder and his littermates. Donders pics are below that slideshow, just scroll down the page to see him.

Below-Two pictures of Donder-8.5 weeks old-Still Available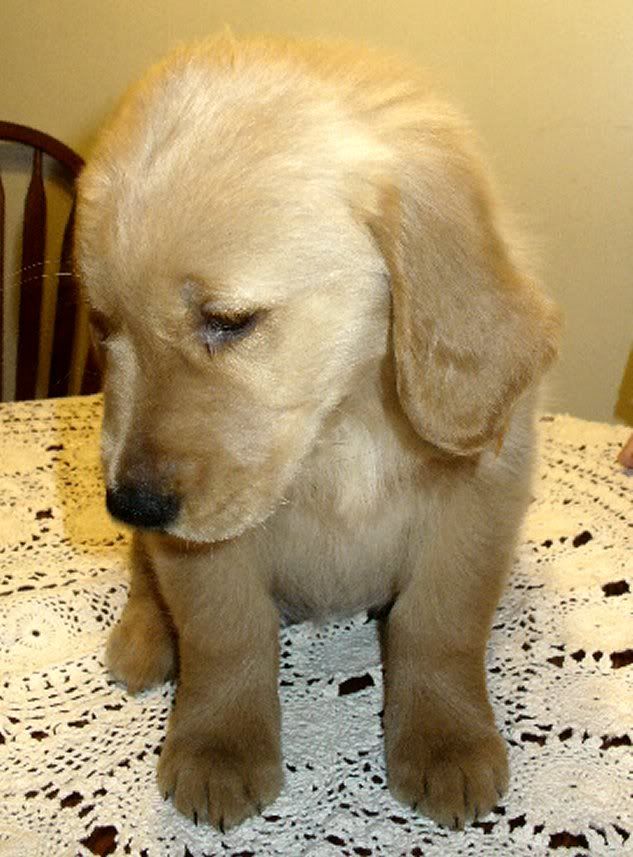 Donder-He is the largest and darkest of the boys. His face just melts your heart because he is so dark and handsome! He will not get real dark but he will be darker than the other boys. Expect his weight to be 75-90 lbs. He is a go-getter and loves his toys! His silly antics will keep you smiling! He is not shy, loves to cuddle and enjoys his baths! He loves the snow!

Below: Pics of the entire litter.
The 3 females at 2.5 weeks old
Below: The 6 males at 2.5 weeks old
If you are interested please email us and we will contact you. This is a great webpage, loaded with pics and information. Our contact information can be found below.

Please read this site and view pictures of past puppies and both parents ( both on site) before contacting us. Our phone number is 989-315-1055. Email us at huroncomputers2@hotmail.com BE SURE TO INCLUDE YOUR PHONE NUMBER.
Please scroll down and read all about us. You will see the puppys baby pictures (from past litters) as well as their grown up pictures so you can see what they will look like when they grow up.
Below: Last years litter
Below: Angels litter. pictures from a previous litter
Cody
Below: All 4 pups at 1 week of age. they are very healthy as you can see by their full tummy's and size.
The next 2 pics are of Duchess, the darkest female-
In loving memory of Lacey Lynn (top right). A few short days filled with so much love. Our hearts were broken until we realized that God reserved this puppy for his own lap. We have planted a new peach tree in our front yard in her honor, she lies beneath it. We will never ever forget her. May God keep her on his lap forever.
Below: More pictures of Angels and Rolleys puppies from past litters. Rolley is our stud.
Below: Violet
A little about us! We have been raising Goldens since 2000. We have all parents on site. Because of our past litters excellent health record, we can proudly prove the long-term health of our puppies and that is extremely important to you! We are NOT a commercial kennel. ear to raise these litters because I LOVE TO DO IT! I fall in love with all the pups, care for them, cuddle, train and nurture them so that when they reach your home you are completely satisfied and will love them too! From birth to the time you take them home the Moms and pups are cared for meticulously! They will have their first shots and wormings, are AKC registered (limited registration), and come with a 30 day health guarantee as well as a lifetime guarantee that we will take them back no matter how old they are! Be sure to read and look at this entire page. Near the bottom you will find pics of past litters as pups and some of their adult pics too, that way you will know what they look like when they grow up! References are available!
PICTURES: Below you will find pictures of both parents and Grandparents as well as their puppies from past litters. You will get to see the puppy as an adult as well! We have also provided information on how we raise our AKC registered Golden Retriever pups. We are NOT a commercial breeder, we allow only one litter from each female per year. We help birth each pup and hand raise them. We will gladly provide references from our past customers! Our email contact information is further down this page. Our phone number is 989-315-1055.
You can reach us at 989-315-1055. If you are emailing us, be sure to send your PHONE number so that we can contact you! You will find our email address further down this page. Thanks!
More About our Goldens These pups grow up to be slender and muscular, see the adult pictures below from Angel and Rolleys 2004 litter. They will have their Fathers markings (lighter colors on the shoulder, long beautiful thick tale and mane. We have been raising Goldens for 8 years. We got our first Golden in 2000 (April Lynne). We currently have April Lynne, her daughter Angel, Rolley our handsome and loving stud, and Beamer (Angels brother) who was bottle raised (runt) and we fell in love with him and just had to keep him! (He is fixed).
Hand Raised! Puppies need lots of love and attention and training during their first 12 weeks of life. Our pups get constant attention and the best of care while they are with us. We only have one litter per year! Our 2 daughters (13 & 16 yrs old) are the reason these pups come to your home full of confidence and energy! They play with them every day and are great at teaching them good manners. We are not a commercial kennel and because of that we have time to interact with every puppy each and every day! They come to our home healthy, happy and a step ahead of other puppies their age! We love puppies and only sell them to others that share our love for them. I personally care for them on a daily basis and use my vacation time from my job to do so. It's what I love to do! There is nothing more rewarding than caring for watching beautiful puppies! They grow so fast and require quite a bit of care from day one!
More of our Puppies from previous years
AKC registered, 30 Day Health guarantee, all shots and wormed.
Our email address is listed at the bottom of this page. Make sure you send your PHONE NUMBER or contact us at 989-315-1055.
Angel (the Mom) and Rolley (the stud) are on site for you to see.
You can see Angel and Rolleys previous litter from Spring 2005 Here. (A new window will open) To see her very first litter with Rolley (our stud) click Here.
If you would like to see Aprils and Rolleys previous litter (2004), click here.
Below you will see the puppy pictures on the left and their adult photo on the right. This beautiful pups name is Buddy from our 2004 litter.

Below: Brie's baby picture and adult picture (Angel and Rolleys daughter)

Below: Duke Luke (Angel and Rolley's son)

Below: Jake's puppy picture and 2 adult pictures (Angel and Rolleys puppy from their 2006 litter)
~~~~~~~~~~~~~~~~~~~~~~~~~~~~~~~~~~~~~~~~~~~~~~~~~
Read what our happy customers have to say about their new pups!
Hello, Beth. Just wanted to give you an update on Beau. We went to the Vet this morning and they tell me he will be an exceptional dog. He has a great personality and is in a great frame of mind. He is eating well, housebreaking is a breeze and he likes his crate and special play room. The Vet says his weight is great, and that he is very healthy. He goes for his next round of shots/worming in two weeks. He is already on Heartguard Plus. I am keeping him on the Iams because he really likes it. I see no need to change and the Vet says that it is fine.
Hope you are holding up well after having some on your babies adopted. I know how devastated you and your family must be every time a puppy leaves your wonderful home. I will keep in touch. Beauregard is going to Puppy Preschool starting in a week. One hour, every Saturday morning to help me get him started on leash and all the good stuff. Take care, and thanks again.
Sincerely
Sharon R
______________________________________________________________________________________________________________
Hi Beth,
I just thought I would send you a couple pictures of Jake on his 2nd birthday. We sure are enjoying him. He now weighs approx 86 pounds.
Take care
Al and Pat S
Shelby Mi.